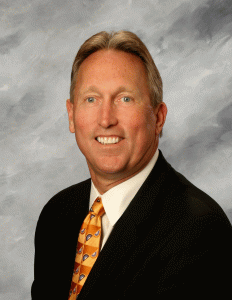 Stephen J. Goehl is the President and Founder of Goehl Financial Services, Inc. located in Geneva Illinois.  He has been in the financial industry for over 40 years.  Throughout his career, he has provided valuable financial advice for thousands of families and individuals.  His passion and work ethic set him apart from his fellow professionals.
Steve has earned both a Chartered Financial Consultant and Chartered Life Underwriter Degree from the American College.  He has been a member of the National Association of Insurance and Financial Advisors for 40 years.  He earned a Bachelor of Science Degree in Marketing from Northern Illinois University in 1972.  He was co-captain of the NIU football team and still holds a record for 5 rushing touchdowns  in one game.  Steve is a member of the Better Business Bureau with a  A+ rating.
Steve was raised in Huntley, Illinois and has been married to his wife Carol for 47 years.  They have three children and six grandchildren:  Brian, Jen, Cole, and Avery Goehl of Carmel Indiana,  Stephanie, Paul, Ty, and Tessa Kobialko of Frankfort, Illinois,  and Andrew, Shala, Leni, and Silas of Seattle, Washington.